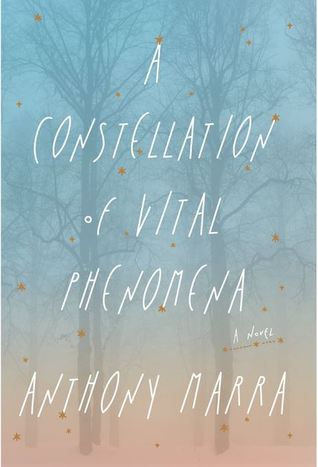 A Constellation of Vital Phenomena by Anthony Marra
Publisher: Thorndike Press
Genre: Historical fiction, Cultural, Russia
Literary Awards: National Book Award Nominee for Fiction (2013), Anisfield-Wolf Book Award for Fiction (2014), California Book Award Gold Medal for First Fiction (2013), Dayton Literary Peace Prize Nominee for Fiction (2014), Goodreads Choice Nominee for Fiction (2013), Paris Review Best of the Best (2013), Athens Prize for Literature (2014), John Leonard Prize (2013)
ISBN 1410462048
605 pages
Goodreads, Books Depository
There are some stories that are so densely imagined and beautifully crafted that they blossom from the pages they reside in, and clouding the world-after with an afterimage so strong, no amount of blinking could erase it.
A Constellation of Vital Phenomena alternates between 1994 and 2004 in a remote village of Chechenya. Nothing much ever happens here, except land mines going off, amputations, and constant fear of being the next to be disposed by the authorities. Akmed watches from the his house as Dokka has just been taken in the middle of the night, knowing that his daughter will be next. Doing the only thing a morally responsible adult will do (and for other internal conflicts of his own), Akmed brings Havaa to the one place he knows safe — the hospital, or rather, Sonja's hospital. Events then further unfold from there as Marra shows how everyone is connected in war times, from the hospital nurse, to the informer next door.
A Constellation of Vital Phenomena is not an action-packed war novel. It drags. It showcases exactly how war feels like for its inhabitants. Days seem like years hiding from the authorities, avoiding landmines, staying alive; years seem like minutes reminiscing the happy times, chiding the mistakes one had made, wishing to go back to fix them. One thing's for certain, war isn't ending and peace seems like a dream you can't really recall.
Though war has the innate tendency to pulverize camaderie and friendship, Marra demonstrates fluidly how it also has the ability to glue back the fragments together, albeit into a twisted picture. Innocence is shattered, loyalties are betrayed, marriage loses its sacredness and yet refuses to buckle over.
Despite the many challenges each of the characters face, happy endings do indeed find them in the end. Happy endings, however, do not necessarily mean the same to everyone. Be it outliving the war and moving on to better landscapes or finding death by summoning all the hatred and resistance of forced prostitution into the trigger, happy endings are attainable — we just have to give up something vital for it.
All in all, Marra has done an exquisite job in capturing not only the essence of war, but also the hearts of its people and how war wickedly bonds everyone together into a gnarled mess, for better or for worse. Characters were raw and choices made reflected the coarseness of reality with an a rare elegance, which no less were attributed to Marra's phenomenal talent in writing.
Rating: 4.5 stars (just because I couldn't understand nor forgive Khassan's actions, even if his son was an informer)
Have you read A Constellation of Vital Phenomena? What did you thought about it?