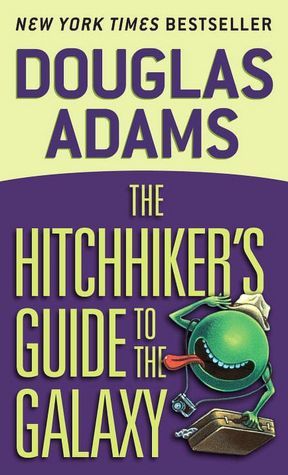 The Hitchhiker's Guide to The Galaxy by Douglas Adams
Series: The Hitchhiker's Guide to The Galaxy, #1
Publisher: Pan Books
Genre: Humor, Science-fiction
ISBN 0345391802
216 pages
Goodreads: click here
Book Depository: click here
I'm so late to the hitchhiker's bandwagon, but I'm so glad I'm finally onboard. At least everyone and the Earth's still here, right? Wait, what do you mean this is the second Earth?
Arthur is having a bad day. His house, the Earth, and everything else he has ever known has been demolished. Except him, thanks to his alien-in-disguise best friend, Ford Perfect, who has swished him off onto a spaceship in the nick of time. But not just any spaceship. It's the spaceship that just demolished Earth. Lucky! Well, unlucky in Arthur's case, since he's stuck with the universe's third worst poem reciter, death threats (which subsequently happen), highly improbable escape from said death threat, and a robot who suffers from manic depression. The worse is that he hasn't had tea since lying in the mud that morning! Damn!
This book is golden. If you haven't read it, or do not know whether to read it, read it. You will not be disappointed. Well, unless you have the babel fish up the wrong ear.
But seriously, I've been meaning to pick this book up for ages. I saw this book when I was 10 years old and was so attracted to it, for reasons still unknown, but was promptly stopped by a teacher who claimed that it was "too advanced" for me (which probably was at that age). Fast forward 10 plus years later, the book is in my hands. Finally. Ha. Yessssss.
Adams does not like to write. He never liked writing. But his writing is good, very good. Humor books can cross a fine line between funny and try-hard-funny, and Adams threads the line well. He injects a witty yet silly kind of humor into his writing, which makes the plot irresistibly engaging and the characters oh-so-lovable. Even if they are the foul Vongons. Artificial intelligence, who were more often than not dedicated stern, cold characters (or a lack of) in sci-fi novels, are so passe. Instead, they are given voices and personalities of their own, which showcased a new, and extremely funny point of view from traditionally inanimate objects. Talk about refreshing. As a science-fiction writer, he also had amazing foresight into what technology can hold for humans in the future. He conceptualizes about the ebook, i.e. the "book inside the book", in 1979 no less, and how it is a common way for editors/authors to update their articles/book through "touch sensitive screens", much like wikipedia and smart phones. Very impressive.
Some people might find hitchhiker a bad book because it doesn't affect them on a spiritual level or it does not change them for the better as a traditionally good book will do. Sit down. A good book does not necessarily need to motivate one to reflect and ponder. Sometimes a good book is just a book that never fails to lift you up by telling you tales that are highly improbable and absolutely hilarious. Hitchhiker is that book, and I'm so glad that I've found it.
Rating: 6/5 stars, because improbability.
Continuing the series?: Definite yes. 
Have you read the book? How was it for you? Tell me all about it, I'd love to know.