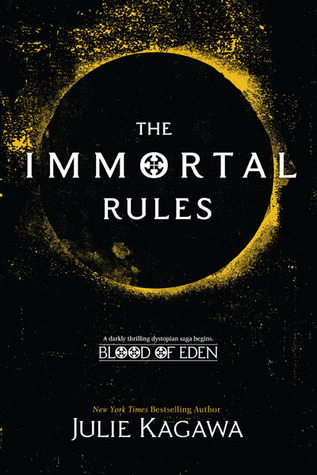 The Immortal Rules by Julie Kagawa
Series: Blood of Eden, #1
Publisher: Harlequin Teen
Genre: Fantasy, Dystopian, Young Adult (YA)
Literary Awards: Goodreads Choice Nominee for Best Young Adult Fantasy & Science Fiction (2012)
ISBN 9780373210510
464 pages
Goodreads: click here
Book Depository: click here
Ah, vampires. The seductive, damned creature of the night whose tales has been spun into many (too many, perhaps) possible worlds and paperbacks. Given the repetitive regurgitating that is the vampire genre these days, I was initially skeptical about Kagawa's The Immortal Rules. However, the summary on the back cover (and the mysterious aesthetics of the book, comeon) seemed like it had a lot going for it. So, why not?
The Immortal Rules takes place in a world where a fatal disease has wiped out most of humanity, leaving its remaining human inhabitants to scavenge for food and territory. An easy way out would be to become a Registered, hence subjugating oneself to monthly bloodletting for the Vampire Lord in return for some food ration coupons, or risk encountering a Rabid and possible death while on the hunt for food. Being the tough heroine that she is, our protagonist chooses to be an Unregistered, and lives each day scraping for food, until one fateful day when she and her friends are attacked by a group of Rabids. In the face of eminent death, Allie chooses eternal life as a monster, and 'lives' the rest of the novel battling her humanity and uncovering ways to save the dystopian world from itself.
Kagawa seemed to have everything nailed. Though the book had its slow moving portions, the pacing of the plot was still smooth enough to warrant interest. Learning about the rules of the dystopian city and subsequent 'immortal rules' was enjoyable, and I felt like I had finally found a vampire novel with no cheesy elements to it. I was overjoyed. However, things started to go downhill when fleeting moments of teenage love/lust transformed into constant "I-can't-leave-him" scenes. Now, I understand that this book is YA dystopian, and the inclusion of teenage love is thus justified since it feeds its audience what it desires. However, instead of motives' being fueled by love, would not a plot about friendship between two teenagers, as well as the remaining members of the human race be important too, especially in a dystopian world where few humans are left? Writing about a strong friendship between 2 teenagers from the opposite sex overcoming odds to save the human race could be just as stunning and impactful, if not more, as bringing in a love line.
The development of other characters could also have been emphasized more, since we know nothing much about them other than they being in Jeb's gang, or their being weak and old, or young and incapable. Again, as with many vampire novels, too many pages were spent on the main character struggling with her monstrosity. Being portrayed as a strong, kick-ass heroine, I would have expected Allie to have come to terms with herself at least by the time she met Jeb's gang. Now, I understand that coming to terms with feeding on human blood is not easy, especially previously being human herself. Unfortunately then, the disparity between Human Allie and Vampire Allie would have been huge, since Human Allie was constantly being portrayed as fearless and unyielding, as well as possessing remarkable levels of mental composure and leadership. Following the plot, Allie's mentality then seems to have wilted into a weak version of herself since becoming a vampire, which was disappointing.
Overall, Kagawa has surely done a good job in The Immortal Rules. If nothing else, I enjoyed her writing and the unique setting of a dystopian vampire world. Kanin and Jackal particularly stood out to me as excellent characters from opposite dispositions and mindsets, yet being able to embrace who they were. Some word count on hotblooded teenage love could have been saved on developing the various characters in the gang, as well as hardening up Allie's mentality after being a vampire.
Rating: 3.5/5 stars
Continuing the series?: Probably not for the time being. 
Have you read the book? How was it for you? I'd love to hear about your thoughts and opinions.