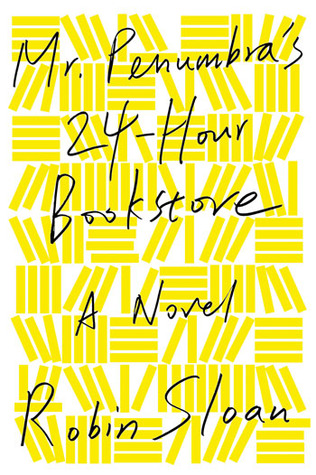 Mr. Penumbra's 24-Hour Bookstore by Robin Sloan
Publisher: Farrar, Straus and Giroux
Genre: Mystery, Books-about-books
Literary Awards: ALA Alex Award (2013), The Kitschies Nominee for Golden Tentacle (Debut) (2013), Japanese Booksellers Award Nominee for Translated Fiction (2015)
ISBN: 978-0374214913
304 pages
Goodreads: click here 
Book Depository: click here
Having read a fair amount of dystopian novels prior, I was in search of a book that was somewhat lighthearted, yet not losing that oomph so many such novels do. I tore through Goodreads, and my local library catalogue, and amidst the few titles that fit my ideal, this book caught my attention. A book about books, set in a cramped, dodgy bookstore with a mystery to boot? Sounds like an adventure.
Mr. Penumbra's 24-Hour Bookstore is set in a world where technology is commonplace and books and other obsolete materials are rendered to vertical shelves, e.g. in Mr. Penumbra's bookshop. Well, except these books are beautifully encrypted and its secrets are privy only to the members of an ancient secret society, The Unbroken Spine, dating back to a sixteen century Venetian printer Aldus Manutius. The catch is that successfully decrypting one book will not do, as all the books in the 'Waybacklist' contribute to the code in some way or other. Our protagonist and his team of tech-friends tries to cheat their way through the system through the use of technology, which works in the beginning to unlock the Founder's Code, but fails at unlocking the secret to immortality.
Sloan's recipe was great. It was set out to highlight how far modern society has come and how irreconcilable the differences between the world of today and yesterday has grown to be. Yet, Sloan constantly tries to mediate these two, sometimes forcefully, like a mixture of oil and water, which just won't mix. Clay, the bookseller protagonist, meets Kat, the wonderful, tech savvy googler. Old school printing press meets high tech kindle e-reader. The two parties come together and combine their brain-juices to solve the mystery. The end, happy ending. It constantly tries to establish a middle ground between the two, a scenario where technology and books can coexist and help each other. Though the idea is understandable given how our society today is so hooked up with technology and its capabilities, the story seems rushed, yet long winded at the same time. Part of which, I believe, stems from Sloan's harping on data visualization and coding, word count that could have been better utilized on developing the characters more. A love interest with insane coding knowledge could have been merely introduced as a person with insane coding knowledge since it did not add anything substantial to the plot. We don't really know much of the protagonist other than him having not-bad coding capabilities and a nerdy CEO friend. It's difficult to grow together with the characters and love the adventure they're on if we can't relate to them.
This is not to say that the book was a horrible read. It has its merits, it described in detail the way programmers think and explored a new area of books-about-books genre (at least to me). However, it lacked character development in the way that the reader would become engaged with them, and further took it apart with at times, blatant, nagging underscoring of generation differences we already know. Mr. Penumbra's 24-Hour Bookstore had great potential to be a thrilling read, but the plot execution shot itself in the foot. Having said that, I believe Sloan could have better things up his sleeve considering Mr. Penumbra's 24-Hour Bookstore is his debut novel.
Rating: 2.5/5 stars
Have you read this book? How was it for you? I would love to hear your comments and thoughts about it.